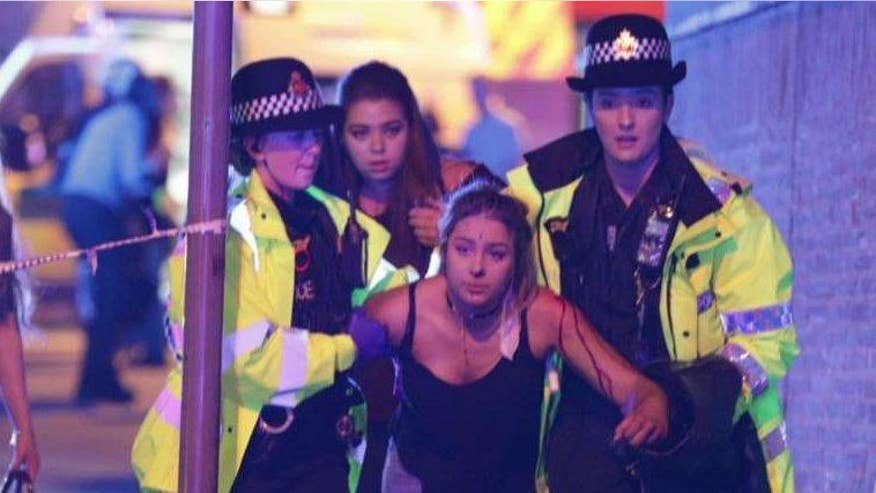 MANCHESTER, England — Children were among the 22 people killed in a suicide attack after an Ariana Grande concert at Britain's Manchester Arena, police confirmed Tuesday.
Meanwhile, authorities identified the suicide bomber responsible for the carnage as 22-year-old Salman Abedi and warned angry residents against any reprisals.
"We understand that feelings are very raw right now and people are looking for answers," Manchester Police Chief Constable Ian Hopkins said. "We will not tolerate hate towards any parts of our community."
Police also arrested a 23-year-old man in Manchester in connection with the attack.
Abedi had a British passport, sources told NBC News, but it was not immediately clear where he was born. He was killed when he detonated an improvised explosive device near one of the venue's exits at 10:33 p.m. local time Monday, officials said.
The pop star's fan base is primarily girls and teenagers, so the venue was packed full of families.
While Hopkins did not identify any of the dead, 8-year-old Saffie Rose Roussos' death was confirmed by her school.
Some 59 other people were wounded, including some who suffered life-threatening injuries, officials said.
And thousands of grieving Manchester residents were expected to attend a vigil at 6 p.m. local time Tuesday to remember the victims.
ISIS claimed responsibility for the attack but provided no evidence and neither U.S. nor British officials have corroborated that.
The blast sparked a nightlong search for loved ones as frantic parents tried to locate their children, and groups of friends scattered by the explosion sought each other.
Alison Pritchard, 34, who works as a waitress, recalled hearing "an almighty explosion behind us."
Her friend Carole Taylor, a 49-year-old teacher, told NBC News she turned around to see "this plume of smoke coming over and all this sort of debris and embers floating from the roof."
"When it exploded, it just rocked your whole body," she said. "It went right through us. People started screaming."
Steve Rotheram, the mayor of Liverpool, told NBC News his two daughters and two nieces were at the show. They described "pandemonium" at the scene with "people climbing over seats to get to exits [and] obviously there were a lot of young girls so there was a lot of screaming and panic," he said.
However, Rotheram's four relatives managed to escape safely.
Hopkins, the police chief, confirmed that children were among the dead and warned of "difficult days ahead." Read more
here
.