Last week, Freddie Gray become the face for police brutality.
Since then, thousands of people have taken to the streets every day to demonstrate against the fate that befell Freddie Gray and countless other people who have been killed by police in America. But on Saturday night, a small minority of Baltimore's residents decided to irresponsibly engage in property destruction and acts of violence — and the media lost its mind.
Here's how the Baltimore Sun covered the events on Sunday:
Out of thousands of frames, this is how @baltimoresun chooses to visually frame a day where 4K marched. #FreddieGray pic.twitter.com/pK2z3hCzlb
— TC (@tchopstl) April 26, 2015
@TalibKweli @justinwedes This should have made the front page ofThe #BaltimoreSun #FreddieGray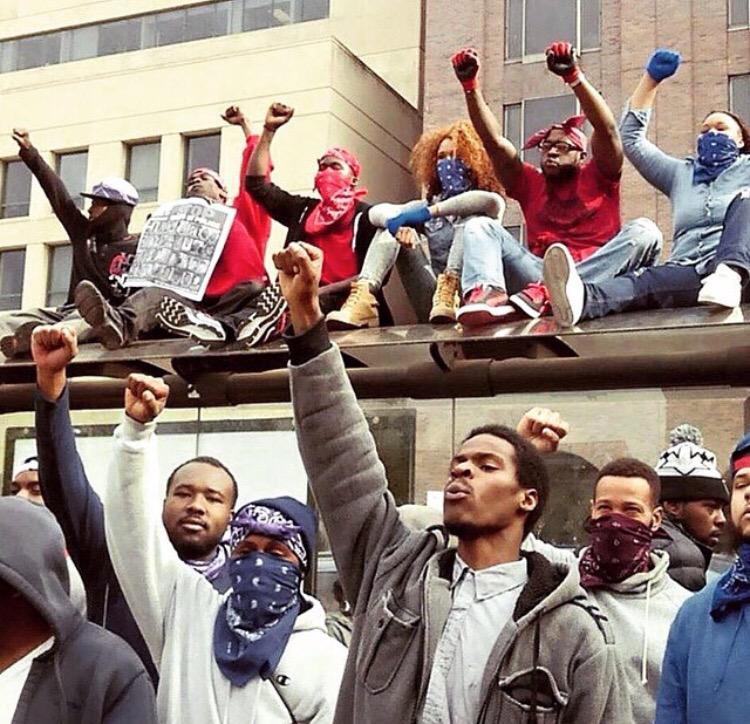 A "war zone":
One could practically sense right-wing media hooting with glee at Baltimore's pain.
Drudge Report's
eponymous Matt Drudge was quick to play up the racial angle:
Breitbart ran headlines referring to "1,000 black rioters" and called the city a "war zone." CNS News wrote on how "the demonstration turned violent and volatile," while the Daily Caller played up a viral video showing a group of young black guys stealing a reporter's purse:
Despite the fact that there have been peaceful protests in Baltimore every day since Gray died on April 19, some folks seem determined to frame the narrative around the actions of a disgruntled minority.
As Mic's Zak Cheney-Rice previously pointed out while covering the protests in Ferguson, Missouri over the death of 18-year-old unarmed black man Mike Brown at the hands of police, somehow the media doesn't react with the same kind of breathless denunciations when white college students turn unruly:
LOOK AT THOSE GODDAMNED THU- oh, that was in Huntington Beach after a surf competition. pic.twitter.com/ylzaCGAwtR
— Chris Kluwe (@ChrisWarcraft) November 25, 2014