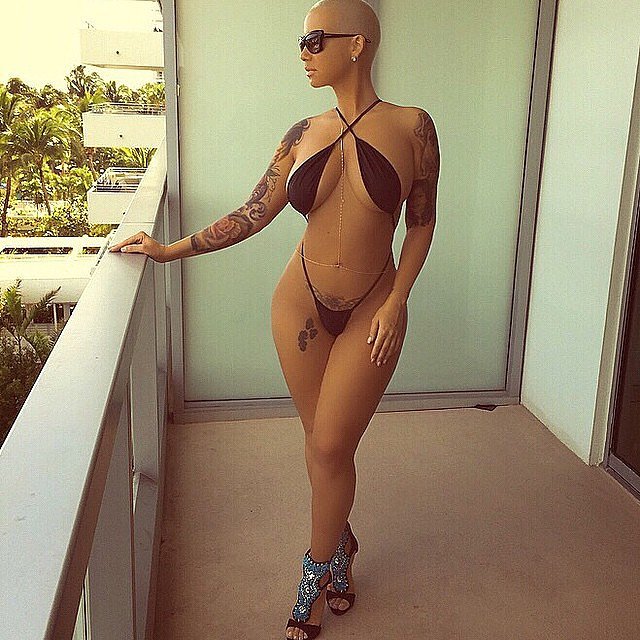 Since Amber Rose has been hanging with new bff Blac Chyna she's been a bit more bold with showing the world her goods...I mean, like all of them. Wiz Khalifa's soon to be ex-wife posted photos of herself in a string bikini; and as you can imagine, it's caused such an internet frenzy.
Now, I'll be the first to say that I've always liked Amber Rose. Mainly because she put up with Kanye and made bald look beautiful. But, these photos have me on the fence...like the little angel on on shoulder and a mini devil on the other.
Maybe you can help me decide between the two:
YAY: These photos were taken at some...um...very creative angles...All in all, her body looks right - though, not above average. I'm restraining from giving her extra points for being bald - js. But she does look amazing in these and I could only imagine Wiz's reaction... Why isn't Amber Rose a porn-star already?
NAY: I had to use Google to remind myself that Amber Rose is a mother. Now mothers posting in bikinis isn't a problem, no woman should be ashamed to do so. But being a mom and posting pictures from this angle is just sad. Most of this is just constant cries for attention. After awhile, it's like, I really hope she's not that insecure... Nowadays, women search for self esteem online and not inside - unfortunately, this may be one of those cases... Feeling so unattractive in the heart and face that you have to decorate and glorify your ass (all the time)...SMH
Which thought do you agree with more? YAY or NAY?