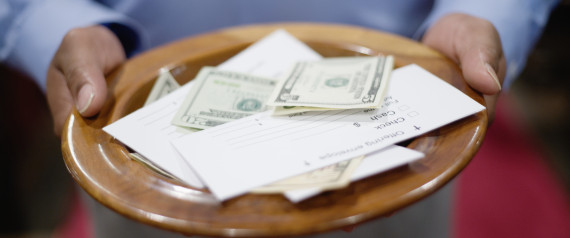 Color Blind by Getty Images
Members of the
the LaSalle Street Church
in Chicago's Near North Side were shocked when Pastor Laura Truax told them during services September 7 that each "actively engaged" member of the church would receive a check for $500. The money came with no conditions, but recipients were encouraged to use it for good works.
"It feels like a faith experiment more than a social experiment," Truax told The Huffington Post. "We say we trust the Gospel, we say we trust each other. But I was wondering, 'Is this going to be a waste of money?'"
They agreed that while they'd eventually determine how to give all the money away, 10 percent would go to the congregation up front. In all, the church wrote 320 $500 checks to members deemed "actively engaged" with their "time, talents or treasures."
Though Truax was anxious, admitting that "our little church has a budget hole of its own," she'd put her faith in the congregation before: two years earlier, using $1,000 of her own money, Truax taped $100 bills under some of the pews to illustrate a parable about undeserved grace.
Nestled in Chicago's tony Gold Coast neighborhood, just blocks from

where the infamous Cabrini-Green housing projects once stood

, the LaSalle congregation is a diverse mix of members who range from the homeless to the well-heeled, according to Truax. Needier members who chose to use the money on themselves were not violating the spirit of the experiment, she said.
"We've been granted so much power to bring forth light -- to love and to give," Truax said, stressing the importance of human kindness compared to cold hard cash. "How much more good could we effect if we used our
lives?
[This experiment] might help people see, 'Man, I have such great capacity. I have such great power in my life. I'd like to use it for good.'"
RELATED STORY: This Item You Use Daily Causes a Terrible Disease
ALSO IN R.CITY: Columbia College Showcases Chicago's Southside in the 70's