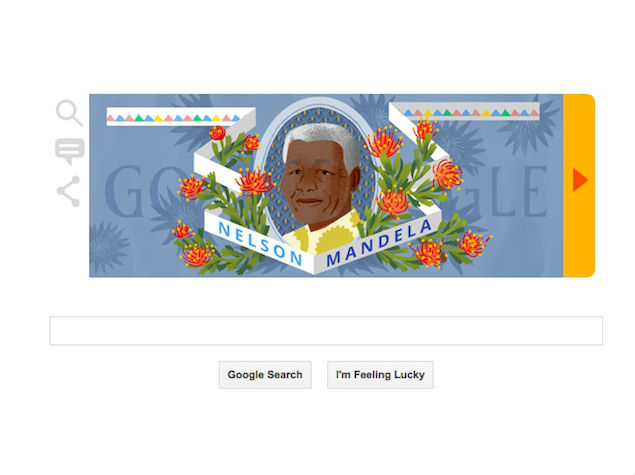 Google Doodle Honors Nelson Mandela's 96th Birthday
To speak of Nelson Mandela in mortal terms is trying to eclipse the shadow of a person who showed that it was easier to rebuild a nation using love and peace rather than hate and war.
The interactive doodle showcases different stages of Mandela's life, along with quotes from his autobiography, The Long Walk to Freedom.
Mandela was unsuccessfully persecuted by the state until the time he co-founded the armed wing of the ANC - Umkhonto we Sizwe (Spear of the Nation). He was arrested for a sabotage campaign against the apartheid government in 1962 - then convicted, tried and sentenced to life imprisonment.
The doodle shows a picture of Nelson Mandela amidst flowers with the second 'O' being the frame around Mandela's picture. Clicking on the doodle sets off the slide show, with the first depicting a South African village (presumably where Mandela was born) with the quote, "No one is born hating another person because of the colour of his skin, or his background, or his religion." Read more HERE.
The best way to celebrate today's holiday is to keep the morals, quotes and inspiration of Nelson Mandela in our hearts throughout our day-to-day lives...